Biography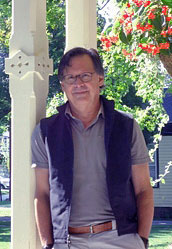 Paul Staiti, Alumnae Foundation Professor of Fine Arts at Mount Holyoke College, is the author of books and essays on John Singleton Copley, Gilbert Stuart, Samuel F. B. Morse, William Michael Harnett, and Winslow Homer.
He has lectured at the Louvre, the Museum of Fine Arts Boston, and the Metropolitan Museum of Art, and has been the recipient of senior fellowships from the National Endowment for the Humanities three times.
He teaches courses on American art and architecture, as well as American cinema. In 2009 he was honored with Mount Holyoke's Distinguished Teacher award.
He lives in South Hadley with Monika Schmitter, a historian of Venetian art. His daughter Ivana lives in Oakland, and his son Adrian lives with his family in Singapore.